Data Collection for Academic Research on Employee Perception in Organization Context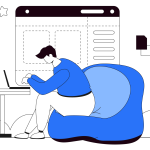 Neda Khan (Research Assistant, Department of Psychology, Jamia Millia Islamia) led this academic research study on Multi Level Analysis of Psychological Capital: An Expansion of Antecedents, Mediator/Moderator and Outcomes. With her Long Survey Questionnaire method, she was looking to collect responses from employees working in IT industry.
About Employee Perception at Workplace:
How do employees perceive their colleagues at workplace? How do they manage disputes or stress at work? What do they talk about the organization outside office premises? Finding answers to these burning questions has given rise to many pieces of research being taken by academicians and independent researchers. Organizations, at their level, are now putting a valuable focus on employee engagement, and employee well-being at workplace to foster a healthy employee perception towards the workplace.
What the researcher was looking for:
Working professionals from IT industry
Evenly distributed participants from a range of work experiences, right from junior most person to senior most person
Timely delivery of responses
Overall should fit in the budget
How our data collection service helped:
The questionnaire had 90 questions segmented into a total of 7 sections. ThinkSurvey reached out to working professionals from IT industry and made sure all experience-level professionals participated in the study. Our professional online data collection ensured more than 200 participants completed all the sections. The researcher was happy looking at the data as it also mentioned various demographics like – Age, Gender, Education, Work Experience, Designation, Company Name, Location etc.
Contact now to see us more directly and connect with you in real time.