Data Collection for Academic Research on Intention to use mobile travel apps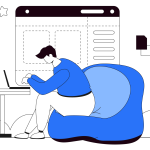 Naman Sreen (Doctoral Fellow in Marketing at IIM Shillong) led this academic research on the use of Mobile Travel apps. He was keen on studying the effectiveness, productivity, and relevancy of using travel-related apps…
About Mobile Travel apps:
Many travel brands are now embracing the digital shift and have launched their own mobile travel apps in the market for hassle-free bookings of flights, trains, hotels, holiday packages, rental cars, and many more. With more and more people open for travel, they are preferring digital modes of booking over physical modes. This has started garnering researchers' attention towards studying and surveying mobile travel apps.
What the researcher was looking for:
Timely delivery of responses
Cost-effective survey platform and yet authentic responses
Participants from across India with varied demographic profiles
Getting honest and meaningful responses
How our data collection service helped:
The survey was short and crisp, which effectively means our participants had ample amount of time to study and answer each question carefully. Through this survey, the researcher was able to answer topics like – using Mobile Travel Applications will increase productivity, using Mobile Travel Applications will enhance effectiveness, the degree to which a person believes that using a system would be free of effort, the degree of speed of an individual to adopt new ideas in relation to other members of the social system etc.
"I have used ThinkSurvey data for multiple research articles. It has really helped me to capture data across India with efficient and effective time and cost management." – Namen Sreen
Contact now to see us more directly and connect with you in real time.