Data Collection for Academic Research on Role of Social Media in Spreading Fake News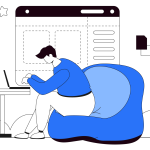 Swaraj Dey, Research Scholar at IIM Kozhikode, is leading the academic research on Role of Social Media in Spreading Fake News. Through the image-based questionnaire method, he wanted to understand if participants can recall the incidents shown, honestly identify them as fake or real and whether they will spread it further on social media channels or not.
A piece of news without factual backing or support is considered Fake News. It can be political news, social news, news about a neighbor, news about a friend or a colleague at workplace, or even about yourself. In the current digital age when everybody is active on social media, fake news is spreading faster and often proves to be dangerous.
What the researcher was looking for:
A relevant data collection source in India
Collecting the desired number of responses within the said timeline
Participants who could recognize images and then answer
Getting honest and meaningful responses
How ThinkSurvey data collection service helped:
ThinkSurvey was able to get honest and relevant responses from vast pool of demographics available in its panel from across India. The researcher was happy seeing the relevancy of the data as their audit team took 50% less time in approving the responses as the Response Rejection rate was 0%.        
"I am very happy with the responses that I have got. They are highly relevant for my hypothesis. I have enjoyed working with your team. Looking forward to working with you again soon." – Swaraj Dey
Contact now to see us more directly and connect with you in real time.