Celebrating Independence Day with ThinkSurvey Participants
On the occasion of our 77th Independence Day, ThinkSurvey invited its Participants to be a part of #ChhotiKhushiyan campaign. An initiative to celebrate and cherish the small moments we experience in our daily lives in India.
More than 100 participants from across India sent their entries, which we shared on our social media channels as well. Not all could be covered here, but here is a glimpse of the same.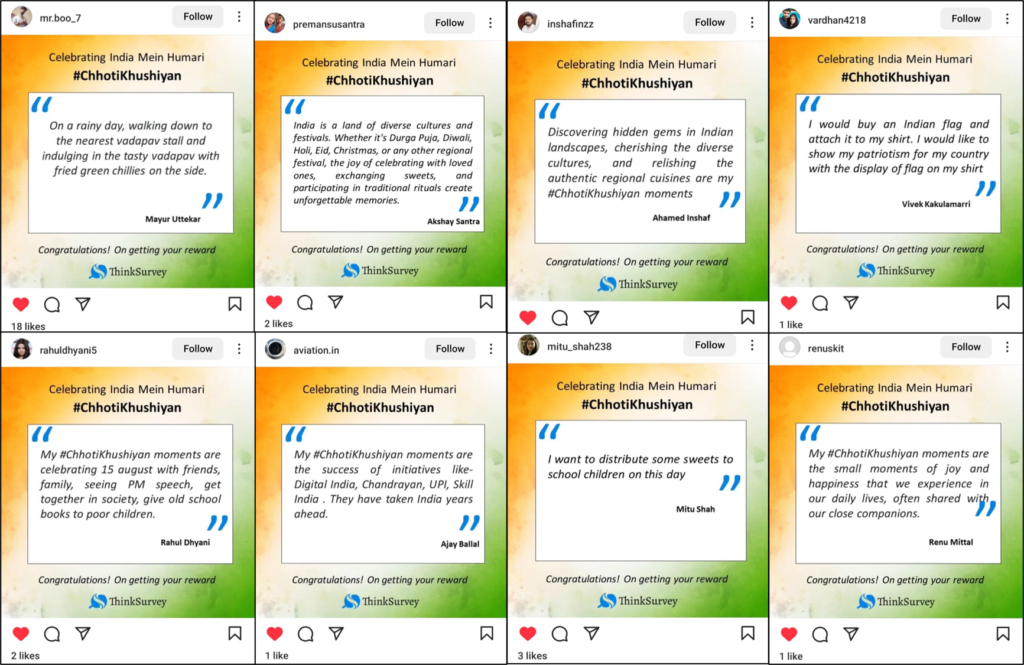 "I love that in India, language and culture change every 15-20 km distance and all the communities have different festivals. We celebrate it together and respect each others' culture. That's what I cherish most about India." – Priyanka Mittal, Bathinda
"I want to go on a small vacation with my family for which I have been waiting so long to explore India and its beauty. I want to celebrate this Independence with my parents, explore India, try different dishes and cherish those beautiful moments all my life." – Diwakar Sharma, Surat.
"Celebrating Independence Day with #ChhotiKhushiyan, gaining financial independence through ThinkSurvey rewards." – Ansh Choudhary, Bhopal
I saw some mentally disabled children raising their flags high last year on Independence Day, despite their hardships there was cute little smile on their faces while holding flags, if they can understand the meaning and importance of happiness in life, why can't we? – Shraddha Saxena, Lucknow
"As a patriotic citizen of India, I will be excited to see a successful moon landing of our chandrayaan 3." – Sanjoy Banerjee, Kolkata
"Me cooking and singing whenever there's no one to console me on my bad day and the food turns out to be finger licking good." – Rupa Sri, Kurnool
"I always cherished when we used to gather when food vendors like gupchup wala, dahi-bara wala, and papad wala across our locality and eat or take takeaways to our home. It was so endearing but now no such vendors pass our locality shouting about the food/items they sell." – Ananya Advitiya, Bhubaneshwar
"This Independence day I would like to celebrate the women power, India's growing prowess in space exploration and our army colleagues. Three cheers to them." – Sushil Panigrahi, Pune
"It would be a good idea to show a patriotic movie on the big screen using projectors in large school halls or auditoriums. Choose movies that include significant incidents that paved the way to freedom and that show the spirit of fraternity in achieving their goals" – Suha Suji, New Delhi
"This Independence day, I would like to spend time at my home and raise the national flag. The other small moments I cherished more are playing cricket with my friends in the streets, eating Pani Puri from a roadside stall, and celebrating Diwali with fireworks." – Anil Krishnan, Bangalore
"#chhotiKhudhiyan moment for me when india will reach to secure women and they feel safe and secure to freely travel in india in day and night without any fear." – Sunil Sanjva, Ahmedabad
"I always cherish the unity in diversity of our "Incredible India" and that makes our country unique." – Bini Basheer, Kollam
Some of the participants posted on their Facebook account, and can be viewed on the stories of official ThinkSurvey Facebook Page.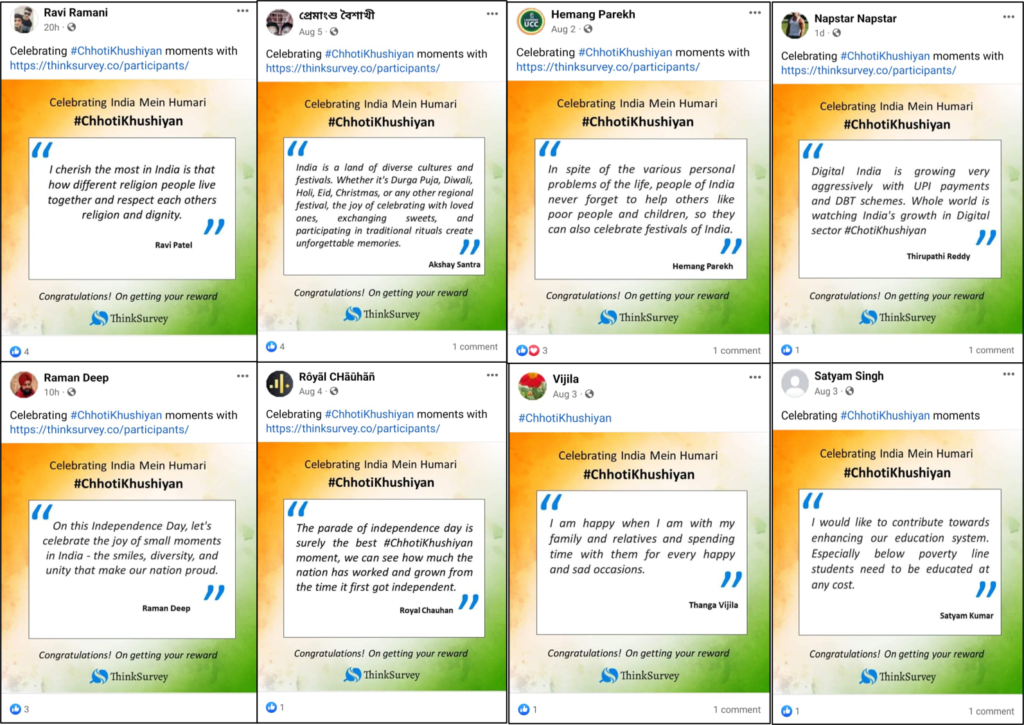 "As we celebrate our independence, let us also renew the promise to our motherland to serve all its citizens to the best of our capabilities. As the educated youth of this country, let us make a promise to help the downtrodden stand up on their feet with the strength of education and literacy." Nisha Singla, Chandigarh
"I want to get a special gift on Independence day. I want to see that our armed forces are treated well and are honored for their bravery and sacrifice. I want to see clean cities and people becoming more civilized and following the law, especially at traffic junctions." Alvin S, Bangalore
"The small moments of happiness that I cherish in India are the diversity of people. All kind of tribes, castes, colours exist yet we are all united as one country. Though differences exist and sometimes there tends to be misunderstanding among people but when we looked in depth we are all the same human, and people are so kind and hospitable the more we get to know them making us wonder if the stereotypes are really true." Shan Wo, Guwahati
"India is itself Khushiyan and if I have to jot down the #Chhotikhushiyan in them then it would be the diversity of culture and foods I get to enjoy in any local shops and places!! Those are the real gems of our country that help in being an Atmanirbhar Bharat as well!" Sri Raksha, Bangalore
"I have many such small moments and I am thankful for having such. I love my evening dalgona that I learned during quarantine. I roast a bread nicely in ghee and then prepare my dalgona.  Then I go and sit on the terrace and enjoy my nice sweet amazing hot dalgona and roasted bread while looking at the beautiful evening sky. Just me and my peaceful time." – Manu Wade, Pune
"Colorful kite flying on Independence Day; joyous camaraderie, soaring dreams, and a united spirit epitomizing India's freedom and diversity. Small moments: savoring street food, warm chai with friends, and celebrating festivals together." – Aftab Jamal, Ranchi
"I would love to cherish and respect all the things in India which we take for granted and will only realize how lucky we are when we visit other countries." – Reena Ranjan, Bangalore
"Small moments like people helping the animals, rescuing them and helping them find shelter in my India are the moments that I will cherish the most." – Brinelle Vaz, Hubli
"Savoring hot chai with family, watching the Independence Day program on TV, and exchanging warm smiles and hearty laughs." – Sayari Bhaumik, Agartala
"Small contribution to our MotherIndia makes me good citizen. Helping hand, planting trees, less use of plastic is the best way to celebrate this Independence Day." – Bindhu Sudhir, Chennai
"Celebrating #ChhotiKhushiyan in India: Savoring chai, diverse culture, warm smiles, street food, and unity on Independence Day!" – Rajaneesh Chandra, Kozhikode
"Small moments make us very cherish and live longer. My #chotisikhudhiyan moments is with my both children they make me laugh with their naughtiness and cuteness. They give me joy all the time specially my little one because she copies to everyone like her teacher, her mother, her grandmother. I wish my little princess like to have dance with me on this independence day and we both are dancing on a patriot song and we are enjoying it." – Deepika Das, New Delhi